All St. Jacobs Midwives maintain active privileges at Grand River Hospital in Kitchener. Midwives admit clients directly to Labour & Delivery and discharge them when it's time to go home.
Find out more about Hospital Birth:
About Grand River Hospital, Kitchener
How a hospital birth progresses
Early labour at home
When you go into labour your midwife may assess you at home or you may decide to meet at the hospital. It is best to spend early labour at home so these assessments help you know when it is time to be admitted to the hospital.
Active labour at the hospital
Once you are in active labour, you will be admitted to a private room to labour, give birth and recover.
There is a shared fridge, ice machine and microwave available for you to use as well as a shower/Jacuzzi tub in each room.
Your primary midwife will call a second midwife to assist her closer to the time of the birth.
With a straight-forward labour and delivery, you will be cared for by your midwifery team. Midwives can monitor epidurals and do not need to transfer care for those needing an epidural. You will not have nurses and doctors involved in your care unless the midwife requests a consultation. For example, if you require a cesarean section, your care would be transferred to the obstetrician on call, and the midwife would remain involved in supportive care.
After the birth
After the birth, your midwives will monitor you and the baby for at least two hours. They will help you to breastfeed, and help you to the shower or bath.
Many clients are discharged home within a few hours of the delivery. In some circumstances your midwife may arrange for you to stay longer.
Usually babies remain in your room. If there are concerns, your baby may be assessed by a pediatrician and may need to spend time in the special care nursery. Doctors and nurses are available for any emergency situations.
Back home
When you return home, a midwife will visit you at home several times in the first week.
Why a hospital birth?
Persons may plan to deliver at hospital because they:
Feel safer in the hospital.
Are not appropriate for a home delivery (i.e. medical or obstetrical conditions for which hospital birth is recommended).
Have faster access to specialized care in extreme emergencies.
Live in shared accommodations and would not feel comfortable at home.
Live far from the hospital (in case transport to hospital is required).
What to bring to the hospital
your health card
your yellow chart (provided by your midwife at 36 wks)
car seat
clothes for baby
pillow (optional)
healthy snacks/water
stretchy underwear (provided by your midwife)
sanitary pads
newborn diapers
receiving blankets
change of clothes
toiletries
blow-up bath pillow (optional)
microwavable heating pad (optional)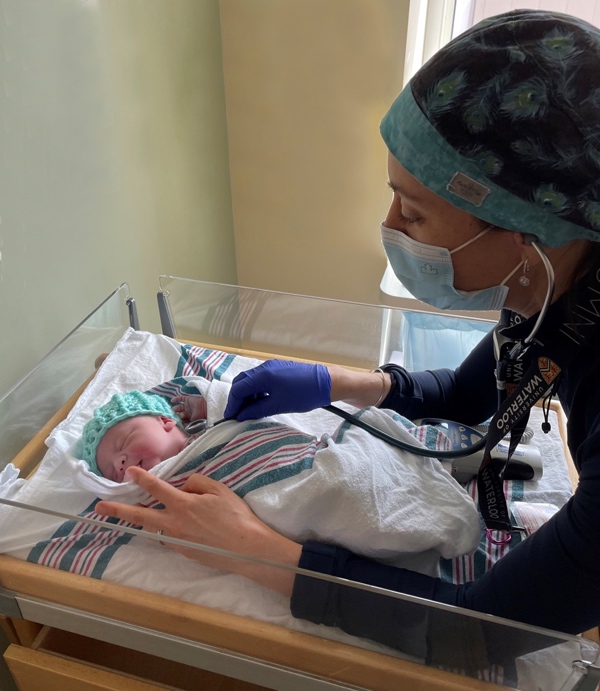 Labour & Birth Info Nights
St. Jacobs Midwives regularly offers Labour & Birth Information Nights. (Please pre-register.)
Listen to clients who've recently had a home birth or hospital birth. See the equipment midwives bring to your home. Ask questions.
Pregnant and looking for care?
Please connect with us as soon as possible to check for availability.