Some clients may want an out-of-hospital birth, but may not want to deliver at home. Our clinic birth suite may be an option for you.
Why clinic birth?
Someone may plan a clinic birth because they:
See birth as a natural process, with no need to be in hospital.
Have had a previous negative experience in hospital.
Dislike being in hospital.
Are expecting their first baby and are worried about the effect of a hospital environment on their labour.
Want to keep birth normal and avoid interventions.
Want to reduce the risk of infection and avoid hospital-based illnesses.
Do not want to deliver at home for various reasons (shared accommodations, accessibility issues, no bath tub, distance from hospital, etc.).
Want the option of water birth.
Want privacy.
Want to feel more in control.
Who will care for me at a clinic birth?
Midwives provide all necessary care for those who plan a clinic birth. Midwives are experts in normal birth, and are trained to recognize signs of complications during pregnancy. Midwives will consult with a doctor or transfer to hospital if necessary.
Most clients, regardless of place of birth, receive their care from a team of two or three midwives. You may have early labour checks at home or clinic. Once you are in established labour, a midwife will stay with you. The second midwife usually arrives shortly before the birth or earlier. The midwives will monitor you and the baby, provide comfort measures, and ensure equipment and supplies are ready for the birth.
Am I a suitable candidate for an out-of-hospital birth?
The majority of out-of-hospital births occur after a normal, healthy pregnancy, with one baby who is head down. Your midwife will discuss with you whether or not clinic birth is a safe option for you.
Under certain circumstances, a clinic birth would not be advisable. These include:
Placenta previa (placenta covering the cervix).
Baby is not head down.
Prematurity (less than 37 weeks gestation).
Previous cesarean section.
Certain health concerns related to the client.
First Baby?
​Out-of-hospital birth is increasingly common for first babies. It isn't necessary to have had a baby before to plan a clinic birth.
What pain relief can I have at the clinic?
People who labour and deliver at clinic or home tend to be more relaxed and feel more in control. However, there is no doubt that managing labour pain can be challenging, wherever you deliver your baby. Some choose techniques such as breathing and relaxation exercises. Midwives often encourage massage, visualization, positioning, and labouring in a warm tub for pain relief.  Midwives can use nitrous oxide (laughing gas) at a clinic birth, which can be a very effective form of pain relief. Some people also find TENS machines are helpful in managing pain.
Is out-of-hospital birth safe?
Research over the last several decades has found that out-of-hospital birth is at least as safe as hospital birth for healthy persons with normal pregnancies if attended by trained midwives. What do organizations involved in childbirth have to say about out-of-hospital birth?
Here are statements from several professional organizations:
Excerpt from College of Midwives of Ontario Statement on Home Birth, 1994 "The College of Midwives of Ontario (CMO) believes that clients have the right to choose to give birth in their own homes with their families. The World Health Organization describes health as multi- dimensional. Decisions about health are based on many factors including physical, emotional, social, spiritual and cultural considerations. Clients must be free to make decisions regarding birth based on all of these factors. Birth is more than a physical or medical event."
Position statement: Home Birth, Canadian Association of Midwives, 2001 "The Canadian Association of Midwives believes that people have the right to make an informed choice regarding their place of birth. Home birth should be an available option for all childbearing people in Canada.The Canadian Association of Midwives believes that midwives are the appropriate care providers for people choosing home birth."
Society of Obstetricians and Gyneocologists of Canada Policy Statement on Midwifery, March 2003 "The Society of Obstetricians and Gynecologists of Canada (SOGC) recognizes and stresses the importance of choice for clients and their families in the birthing process. The SOGC recognizes that people will continue to choose the setting in which they will give birth. All persons should receive information about the risks and benefits of their chosen place for giving birth, and should understand any identified limitation of care at their planned birth setting. The SOGC endorses evidence-based practice and encourages ongoing research into the safe environment of all birth settings."
Excerpt from RCOG/RCM Joint Statement No.2, April 2007 Canadian Association of Midwives (CAM) Society of Obstetricians and Gynecologists of Canada (SOGC) Royal College of Midwives & Royal College of Obstetricians & Gynecologists (joint statement) "The Royal College of Midwives (RCM) and the Royal College of Obstetricians and Gynaecologists (RCOG) support home birth for those people with uncomplicated pregnancies. There is no reason why home birth should not be offered to anyone at low risk of complications and it may confer considerable benefits for them and their families. There is ample evidence showing that labouring at home increases a person's likelihood of a birth that is both satisfying and safe, with implications for her health and that of their baby."
What if something goes wrong?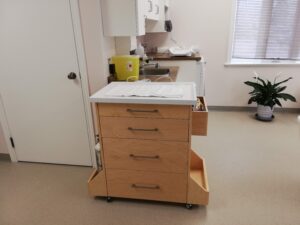 All of our clients, whether planning home, clinic or hospital birth, pre-register with Grand River Hospital. This enables a smooth transition to hospital, if necessary, with your pre-registration information already on file. You can download and print your Grand River Hospital Pre-Registration Forms.
Your midwife will monitor your baby's heart and your condition regularly through labour. If she has any concerns about the health of either you or your baby, she will advise that you transfer to hospital. The aim is to transfer well before the situation becomes an emergency. You would either travel by car or ambulance, depending on how advanced your labour is and how urgent the situation is.
Note: The majority of transfers to hospital are not emergencies. The most common reasons for transfers include client requests to move to hospital or a sign of a potential complication. It is always possible that you may need emergency treatment, and it may take longer to get if you have to transfer from home or clinic to hospital. However, it is extremely rare for intervention such as a cesarean to suddenly become necessary with no earlier warning signs. If the midwife believes that you need an urgent cesarean, she will call ahead to the hospital so that they are prepared for you when you arrive.
Midwives are trained to provide emergency treatment if there are complications after the birth. They carry oxygen and resuscitation equipment for babies who are slow to breathe as well as intravenous fluids and drugs to treat heavy bleeding after birth. Midwives are trained to repair tears or episiotomies. They can administer local anesthetic for this procedure.
Occasionally, transfer to hospital occurs after the birth: e.g. because of problems with the delivery of the placenta, or because of concerns about the baby's breathing. Although transferring from a planned home or clinic birth can be disappointing, most people who have transferred say that they were glad to have spent time labouring at home or clinic, and would plan a home/clinic  birth for their next baby.
What do I have to prepare for a clinic birth?
The items listed below should be gathered in a large covered box (tote box) three weeks before your due date and brought to the birth suite when you are in labour.
Set of double or queen sheets with 4 pillow cases
clean washcloths (4)
clean towels (4-6)
snacks for labour/after birth
something comfortable to wear while birthing
plastic container or large Ziploc bag to bring the placenta home
hospital bag in case transfer is required (baby diapers, baby clothes, pads, change of clothes for yourself, toiletries, footwear)
your yellow chart (your midwife will give this to you around 36 weeks)
your health card (if you have one)
car seat for baby
We will provide you with disposable bed pads, postpartum pain medications, and a perineal (squirt) bottle.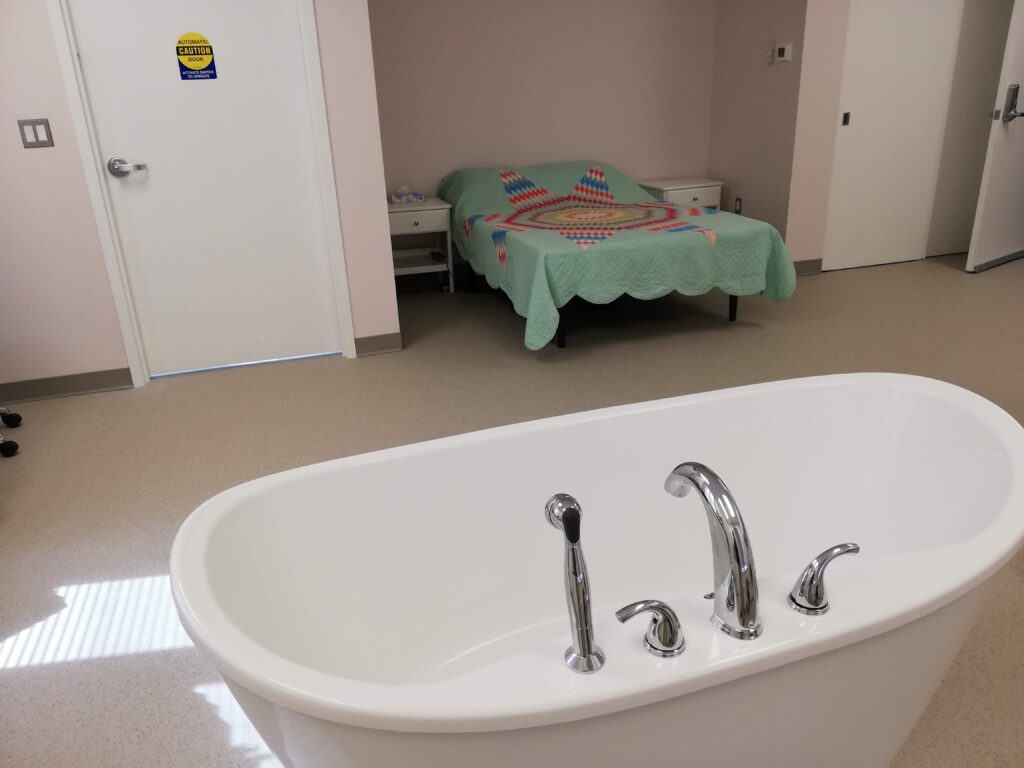 Labour & Birth Info Nights
St. Jacobs Midwives regularly offers Labour & Birth Information Nights. (Please pre-register.)
Listen to clients who've recently had a home birth or hospital birth. See the equipment midwives bring to your home. Ask questions.
Pregnant and looking for care?
Please connect with us as soon as possible to check for availability.